2021 Holiday Shipping Guidance and Cutoff Dates
Many of us know the stress of shipping around the holidays all too well. For any last minute shippers out there, we wanted to provide a quick summary of the guidance offered by our carrier partners for the highest probability of a timely holiday delivery.
Please be aware that UPS offers only a general holiday guide available here, and DHL has not provided guidance. Accordingly, we recommend shipping as soon as possible if using either carrier.
Purolator advises Ground shipments scheduled for delivery in Canada before December 25, 2021 must be shipped out by Wednesday, December 15, 2021 for a non-local domestic delivery and Friday, December 17, 2021 for a local delivery. Purolator Express domestic shipments will need to be shipped out by Wednesday, December 22, 2021 for delivery before December 25, 2021.
Loomis and Canpar share the schedule below. Please note that their respective service guarantees are suspended from November 22, 2021 to January 7, 2022, and that these dates apply to ground service to/from urban areas.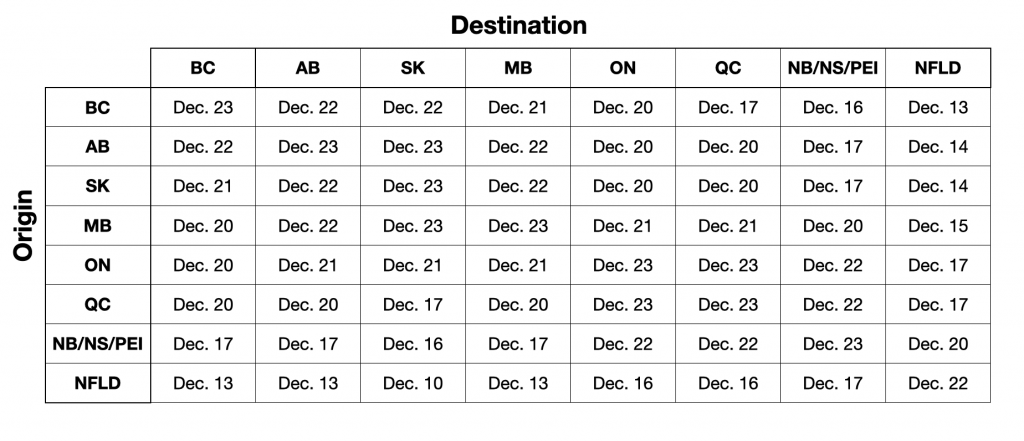 From all of us at netParcel, happy holidays!
A strategic and digital marketer, Lee has been in the online space for almost a decade working for successful, big brand Canadian retailers. Lee brings a wealth of marketing and eCommerce expertise to netParcel. She is passionate about social media and has been looking for cheaper ways to ship all of her online purchases for years. Lee has two young boys that add just the right amount of chaos to keep life exciting. She can be found on her smartphone and cooking -- almost always at the same time.