*Updated* How to Import eBay Orders into netParcel
To import orders from eBay into netParcel for processing, please follow the steps below. The process for importing a single line item order differs from that of a multiple line item order, so each unique process is outlined below.
Importing a Single Line Item Order:
netParcel: Complete the netParcel eBay store integration on netParcel via My Account > My Stores > Add New Store +
eBay: Navigate to your order via Account Settings > Activity > Sold > View order details
eBay: Copy the entire URL of the order details page for the item you want to import into netParcel for processing
netParcel: Paste the entire URL into the Order ID field for your eBay integrated store on netParcel
netParcel: Select Import Order and process the order for shipment
eBay: Copy the Order details URL
netParcel: Paste the eBay Order Details URL into the netParcel Order ID field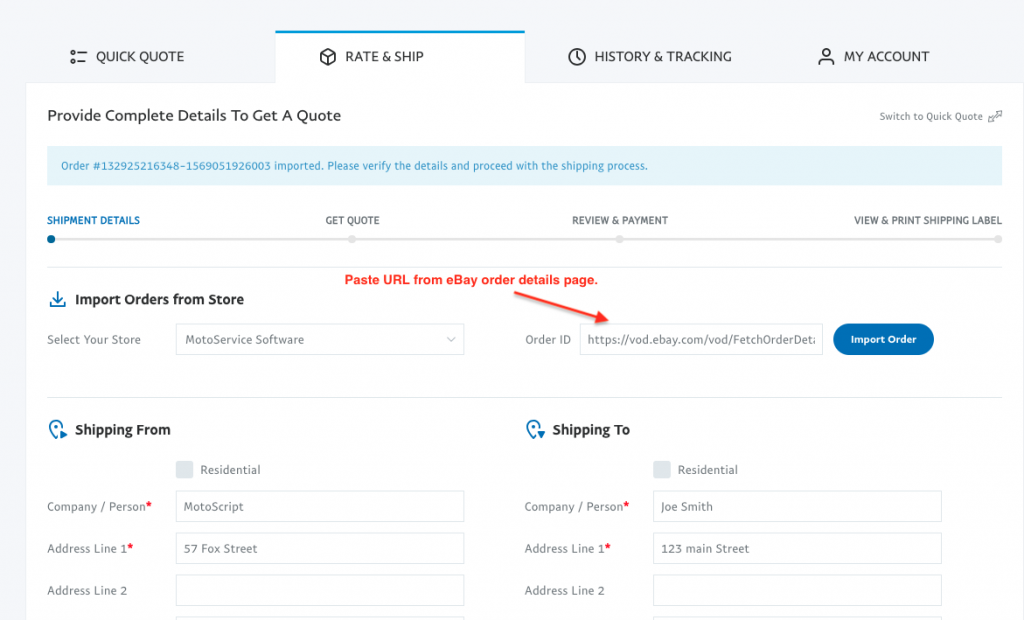 Alternatively, Single Line Item Orders can be imported with a combination of the ItemID and OrderID. For example, 132925216248-1569051926003 with a hyphen separating the two values.
Importing a Multiple Line Item Order to netParcel:
Multiple Line Item Orders (also know as Combined Invoice Orders) can occur if there are multiple unpaid orders between the same buyer and seller on eBay. The buyer or the seller can consolidate these orders for ease of payment and shipment processing.
These types of orders can be imported to netParcel simply by entering the eBay Order ID into the "Order ID" field in your netParcel Rate & Ship page.
A strategic and digital marketer, Lee has been in the online space for almost a decade working for successful, big brand Canadian retailers. Lee brings a wealth of marketing and eCommerce expertise to netParcel. She is passionate about social media and has been looking for cheaper ways to ship all of her online purchases for years. Lee has two young boys that add just the right amount of chaos to keep life exciting. She can be found on her smartphone and cooking -- almost always at the same time.